By Yan Hui (China Daily)
Updated: 2008-03-18 07:31
Xiao Ren, my girlfriend, was worried about her weight so she dragged me off to go skiing. As soon as she set foot on the slopes, however, she tripped and sprained her ankle. I visited her every day, but our conversation soon dried up and we started looking at each other, in silence. Then, one day, she announced: "Let me show you how to play go."
Chinese chess, or go, is something I associate with hermits dressed in long robes, who lived in the mountains and rode on red-crested cranes when they visited friends.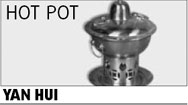 Xiao Ren stroked my hair and laughed heartily: "Your teacher, me, started learning go at 6 and followed many masters. I was the only level-two woman go player in the city."
Learning go should start with the basics. For example, one must learn to distinguish good quality pieces by raising them to the sun and determining their translucency. One must also learn to adopt an elegant style when picking up the pieces and putting them down.
I soon discovered that learning the game is not fun, especially with my meticulous teacher. The first time she finished explaining a match to me, she cleared away all the pieces and asked me to repeat each step - without making a single mistake!
To impress my girlfriend, I gave up my hobby of sleeping for an extra hour on the weekend. I learned from other beginners on the Internet. With this new hobby, I suddenly found that time was disappearing faster. The sun would be shining in the east when a game commenced, but the lights would be on by the time I looked up again.
As our department drafted its new year's entertainment plans my boss, Mr Cao, said: "I really want to take part in a go match. But I haven't practiced for years. I heard you are learning it now. Perhaps we should play a few games."
Cao is not an amiable leader. Even seasoned colleagues are nervous in front of him. As a newcomer, I wanted to impress. So everyday at noon I played chess with him. A week passed, I didn't win.
If I was to always lose, my boss would look down on me. I told my girlfriend about this and she was quite happy to review each game we played. Three days later, my dear teacher had found Cao's weak points and showed me some mighty strategies.
The next day, while we were counting our gains and losses over the last stage of the game, Cao looked at the board and murmured: "Man, one should never waste one's youth. If someone wants to be prominent, he must endure great hardships."
The office was quiet. His words struck my heart and my back was covered with a cold sweat. Was he saying that I didn't work hard enough?
A few days later, we learned at work there was a chance to study abroad. I didn't join the fierce fight. But my boss gave me the chance.
"The strongest fragrance of plum blossom comes from the coldest winter," my girlfriend said. "I'm going to learn guitar. Do you want to learn?"
(China Daily 03/18/2008 page20)