I was belatedly reading George's excellent news coverage on the MACA site and learned that Boylston member and player Mika Brattain is a national Champion:


April 5, 2009: Massachusetts' Mika Brattain wins Super Nationals K-5 Championship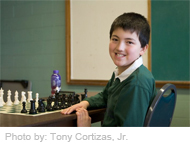 Ten-year-old Mika Andrew Brattain, a Class A-rated player from Lexington, Massachusetts, won the K-5 Championship of the Super Nationals IV tournament on Sunday, April 5, in Nashville, Tennessee. The Harrington Elementary School fifth-grader chalked up a score of 6.5-0.5 in a field of 317 players to finish first on tiebreak points over provisionally rated Class C player Ford Yukio Nakagawa of Hawaii. Mika defeated in the final round front-runner Christopher Wu of New Jersey, who finished with a 6-1 tally. Mika attained his Class A rating with the March 2008 USCF rating supplement - more than five months before his 10th birthday. He has been playing rated chess since December 19, 2004, when he competed at age 6 in a Burger King tournament in Waltham, Mass., directed by the late Gus Gosselin.
George Mirijanian
Publications Coordinator