MACA Chess News:


05/26/2009

: GM I

vanov wins Mass. Open

; IM Vigorito and FMs Kelleher, Bournival runners-up


George Mirijanian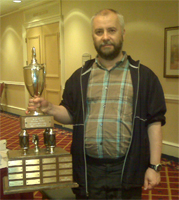 In a dramatic come-from-behind victory, grandmaster Alexander Ivanov won the 78th Massachusetts Open, held May 23-25 at the Holiday Inn in Boxborough. The 53-year-old Newton resident suffered a setback in the third wound when he lost to FIDE master Bill Kelleher, the 1992 Massachusetts state co-champion.

.

But then Ivanov posted back-to-back wins against Ilya Krasik of Newton and FM Paul MacIntyre of Malden to set up a final-round confrontation with international master David Vigorito of Somerville, who was leading the field with 4.5 points. Ivanoiv defeated his rival and with it gained his ninth Massachusetts state championship.

Complete results are as follows:
OPEN SECTION (30 players)
1st: GM Alexander Ivanov, 53, of Newton, 5-1
2nd-3rd prize: M David Vigorito, 38, of Somerville, 4.5-1.5
FM Bill Kelleher, 59, of Watertown, 4.5-1.5
FM Braden Bournival, 25, of Manchester, NH, 4.5-1.5
1st under age 23: SM Denys Shmelov, 22, of Pepperell, 4-2
1st under 2250: Ilya Krasik, 29, of Newton, 4-2



UNDER 2000 SECTION (22 players)
1st prize & top under age 23: Jacob Fauman, 13, of Newton, 5-1
Tim Bromley, 20, of Billerica, 5-1
2nd:prize: Kenneth Newman, 65, of Cambridge, 4.5-1.5
3rd prize (tie): John Elmore, 36, of Hampton Falls, NH, 4-2
Stephen Brudno, 66, of Brookline, 4-2



UNDER 1800 SECTION (18 players)
1st-2nd: Frank Vogel III, 51, of North Kingstown, RI, 4.5-1.5
Mike Griffin, 56, of Quincy, 4.5-1.5
3rd: Larry Eldridge, 76, of West Newton, 4-2
Top under age 23 (tie): Daniel Tiedemann, a student at Bentley University, Waltham, 4-2
Clara Wang, 12, of Sharon, 4-2



UNDER 1600 SECTION (16 players)
1st: Bruce Stone, 60, of Auburn, NH, 5-1
2nd-3rd prize (tie): Jeffrey Wright, 51, of Somerville, 4-2
Top under 1400: Ramsamy Subramani, 36, of Washington state, 4-2
Robert Norris, 57, of Westford, 4-2



ONE-DAY (May 24) UNDER 2000 SECTION (18 players)
1st: Vikas Shiva, 14, of Lexington, 3.5-0.5
2nd prize (tie): Neil Cousin, 43, of Franklin, 3-1
WIM Vesna Dimitrijevic, 57, of Watertown, 3-1
2nd/U1800 prize (tie): Darwin Ding, 13, of Lexington, 3-1
Edward Foye, 53, of Boston, 3-1



ONE-DAY (May 24) UNDER 1600 SECTION (30 players)
1st: Benjamin Swiszcz, 14, of Cumberland, RI, 4-0
2nd: Yuanfan Yao, 14, of Brighton, 3.5-0.5
1st U1400: Michael Zhang, 12, of Wellesley, 3-1
1st U1400/U1200 (tie): Edward Li, 11, of Acton, 3-1
Darrith Phan, 11, of Chelmsford, 3-1
1st U1000 (tie): Wei Gao, 46, of Acton, 2-2
Jeff Gao, 13, of Acton, 2-2



K-3 Under 1200 SECTION (18 players)
1st: Sathwik Karnik, 8, of Plainville, 4-0
2nd: Alex Fauman, 7, of Newton, 3-1
3rd: Anton Barash, 8, of Brighton, 3-1
Medal winners:
Sandeep Shankar, 8, of Sudbury, 3-1
Michael Isakov, 8, of Sudbury, 3-1



K-3 UNDER 600 SECTION (32 players)
1st: Albert Yiming Xu, 8, of Shrewsbury, 4-0
2nd: Isabella Shih, 6, of Andover, 3.5-0.5
3rd: Sonia Deodas, 8, of Norfolk, 3.5-0.5
Medal winners:
Ari Xuan, 7, of Boxborough, 3.5-0.5
Andrew The, 7, of Lexington, 3-1
Jessica Chen, 9, of Newton, 3-1
Jeffrey Zhu, 8, of Lincoln, 3-1
Conway Xu, 7, of Lexington, 3-1
Jaimin Bhagat, 5, of Norfolk, 3-1



K-6 UNDER 1400 SECTION (21 players)
1st: Jordan Shapiro, 11, of Sharon, 4-0
2nd: Henry Li, 12, of Lexington, 3.5-0.5
3rd: Sabrina Zhang, 10, of Lexington, 3-1
Medal winners:
Calvin Lin, 10, of Amherst, 3-1
Changming Xu, 11, of Carlisle, 3-1
Brandon Wu, 9, of Littleton, 3-1



K-6 UNDER 800 SECTION (37 players)
1st: David Yashgur, 10, of Longmeadow, 4-0
2nd: Loring Lauretti, 10, of Cohasset, 4-0
3rd: Benjamin Yifan Li, 9, of Lexington, 3.5-0.5
Medal winners:
Kevin Hu, 10, of Sharon, 3-1
Matthew Manzo of Beverly, 3-1
Rahul Krishnan, 8, of Hopkinton, 3-1
Rholee Xu, 9, of Carlisle, 3-1
Eric Liu, 10, of Acton, 3-1
Milan Rosen, 8, of Newton, 3-1
Jon Gong, 8, of Acton, 3-1
Anthony Gao, 8, of Carlisle, 3-1



MASSACHUSETTS OPEN BLITZ CHAMPIONSHIP (11 players)
1st: Denys Shmelov, 22, of Pepperell, 9.5-0.5
2nd prize (tie): Libardo Rueda, 42, of Winthrop, 6-4
Andrew Tichenor, 26, of Brookline, 6-4
2nd/top U2000 prize: Grant Xu, 11, of Shrewsbury, 6-4



Chief tournament director:

F. Alexanderr Relyea

of Bedford, NH

Assistant TDs:

Nita Patel

of Bedford, NH

Bob Messenger

of Nashua, NH

Ken Ballou

(MACA tournament coordinator) of Framingham

Hotel coordinator:

Donna Alarie

of Rutland
George Mirijanian
Publications Coordinator